Career and Community Events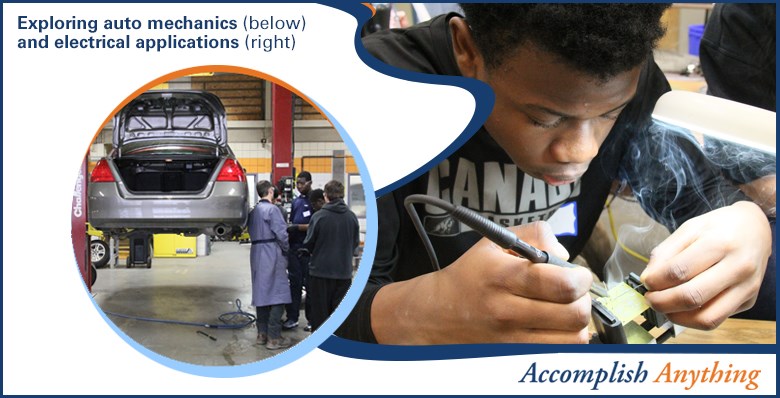 AAiM Day - This grade 6 annual event is held at Red River College's Stevenson Campus. The day's events are designed to help reinforce the concepts students are learning in the flight unit in the grade 6 science curriculum as well as gaining exposure to the aerospace and aviation industries. This event is designed to let students participate in hands-on activities that focus on four major aspects of the aerospace and aviation sectors: Repair/Overhaul, Manufacturing/Composites, Space and Flight.

Take Our Kids to Safe Work Day - Manitoba Education and Training is a proud sponsor of Take Our Kids to Work Day. In November of each year every Grade 9 student in Canada is invited to spend a day at work with a parent, relative, adult friend or volunteer host. This annual national program enables the entire community - parents, teachers and employers to play an important role in the career development of young Canadians.



Future Explorations - This two-day event enables grade 10 Pembina Trails students to spend a half-day at the Manitoba Institute of Trades and Technology. This hands-on event gives students the opportunity to experience and explore a preferred program area to learn first-hand what the program entails. Students are able to connect with M.I.T.T. instructors and students with opportunity to ask questions and seek answers from those who are currently enrolled in programs. A goal for this event is to help enable grade 10 students to make informed decisions around their programming options for grade 11 and 12.
Click here to see video of this event

Manitoba Construction Career Expo - Pembina Trails School Division will once again provide opportunity for interested high school students to attend the Manitoba Construction Career Expo. Last year's Expo was attended by more than 1,800 high school students from 50 schools from across Central and Southern Manitoba where they were given the unique opportunity to try construction skilled trades for themselves at Red River Exhibition Place.
The Winnipeg Construction Association will host the Manitoba Construction Expo again this year. It is proving to be a very effective way to introduce students to the variety of career opportunities in construction. This event features many hands-on exhibits, from welding, masonry, insulating and electrical to pipe-fitting, shingling and roofing, just to name a few. Other activities gave attendees a bird's eye view from the top of a zoom boom, the chance to operate a mini excavator and mix and finish concrete with guidance from industry experts.



Rotary Career Symposium - Pembina Trails School Division high schools have the opportunity for their students to attend the largest and most comprehensive career symposium in Canada. This symposium provides a dynamic venue where students and adults gain valuable information about various education and employment options available in Manitoba, Canada and even internationally! Participants can visit informative exhibitor displays, attend valuable speaker sessions and meet the business and educational leaders who will help to update their career profile.