Craig Stahlke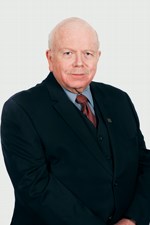 P: 204.781.5622
cstahlke@pembinatrails.ca
Craig is a Chartered Professional Accountant (FCPA, FCMA) and worked his entire career as Secretary-Treasurer of Pembina Trails School Division and one of its predecessor school divisions, Fort Garry School Division. This career spanned more than 43 years as Board Secretary and Chief Financial Officer. Responsibilities included management of the Division's financial operations, business administration, Board Secretary, collective bargaining, Freedom of Information (FIPPA), records management, and transportation. He worked closely with the Board of Trustees, Senior Administrators and staff and interacted with the public. Over his years of service as Secretary-Treasurer from 1976-2020, Craig participated on many standing committees of the Board.
Craig and his family have been residents of Charleswood for the last 30 years.
Craig believes that all students deserve to be provided the best possible educational programming and services that meet their needs. The work of the Board of Trustees includes not only ensuring the educational success of our students but exercising proper stewardship of the Division's finances, focusing resources to benefit students effectively, supporting staff in their work and meeting our legal, administrative and oversight obligations as a school division.
Committees:
Finance, Buildings, Property and Transportation (Chair)