Linda Karn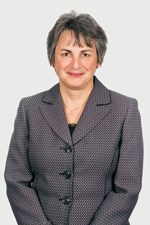 P: 204.888.5974
lkarn@pembinatrails.ca
Linda is pleased to be elected as a School Trustee. She has lived in three different provinces and worked on a wide variety of boards in the community including soccer, orchestra, and parks and recreation.
Linda brings a diverse background to the Pembina Trails School Division through her work as a computer support tech, medical laboratory technologist and professional event planner. She loves children and education and wants the best possible education for all children in our division.
Linda and her husband happily live in Charleswood. They have three children and one grandson.
Committees:
Pembina Trails Education Support Fund Inc.
Education
Assiniboine South Early Years Team/Healthy Child Coalition