Vincent Massey student wins Canada's top neuroscience competition
A big shout out to Vincent Massey's Mark Piasecki, who recently won the Canadian National Brain Bee, where students are tested on the knowledge about the brain and neuroscience research. It is designed to stimulate interest and excitement about brain research. Students study topics on memory, sleep, intelligence, emotion, perception, stress, aging, brain imaging, neurology, neurotransmitters, genetics, brain disease, and more.
The Brain Bee is an exciting opportunity for high school students to learn about the brain and the importance of brain research. Students have the opportunity to visit the university and meet the students and professors who are doing brain research. It is an avenue of communication, through media and students, to raise awareness of brain research in the community. Brain Bee hopes to attract bright young minds to the study of neuroscience. Many brain bee competitors choose careers in medicine or neuroscience because of their Brain Bee experiences.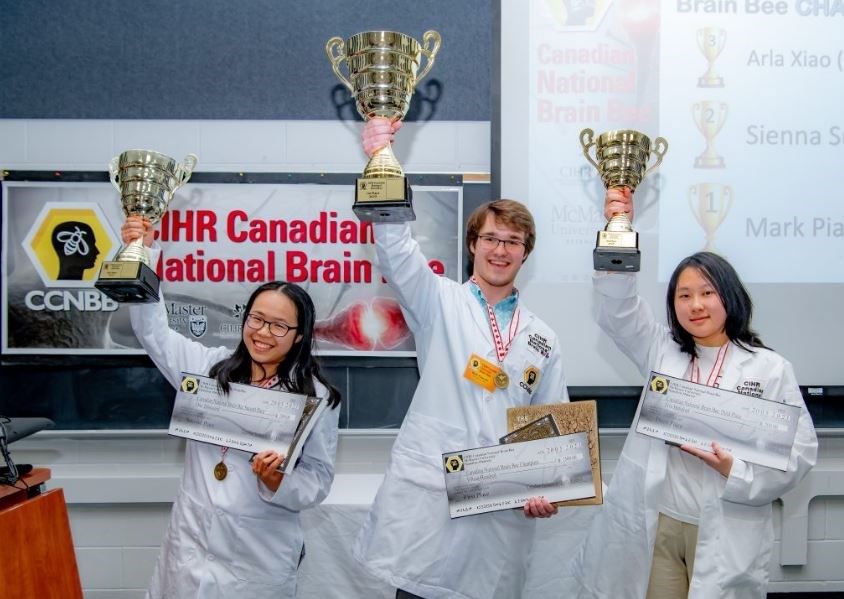 For his remarkable efforts Mark won a $1500 first prize, a trophy (see above), an opportunity for an internship in a neuroscience lab, and a trip to the Canadian Association for Neuroscience conference in Montreal in 2023.
Mark will now represent Canada at the International Brain Bee World Championship, which will take place in Washington DC in conjunction with the American Psychological Association annual conference, August 3-5, 2023.