Transportation
S443 PTC School Charter Bus (this is a Winnipeg Transit Bus)
September 22, 2023 Update:
The City of Winnipeg has added an earlier charter bus to the PTC route. The City bus will not run the entire existing S443 route, but instead will start with its first pickup on Castlebrook & Windflower at 7:51am – about 5 minutes earlier than the existing S443 Charter hits that stop.
Included below, is the earlier bus route noted above of the S443 route map.
The red marker at Castlebrook & Windflower is where the earlier charter route will start.
The yellow highlighted portion of the route is where the earlier charter will run.
Approximately 5 minutes earlier than the current charter's scheduled pickups at the indicated stops
Click on map to expand.
August 31st Update: Beginning fall 2023, Winnipeg Transit route S443 will provide service to and from Prairie Pointe, Bridgwater Trails, and Bridgwater Lakes. Students will be required to purchase bus passes to use this service. The following scheduled times are provided below. Refer to the Winnipeg Transit Navigo application for the most up-to-date pick-up/drop-off times. - The PTC School Charter bus drops students in front of the school and picks them up from the front of the school. Here is a quick view of the schedule: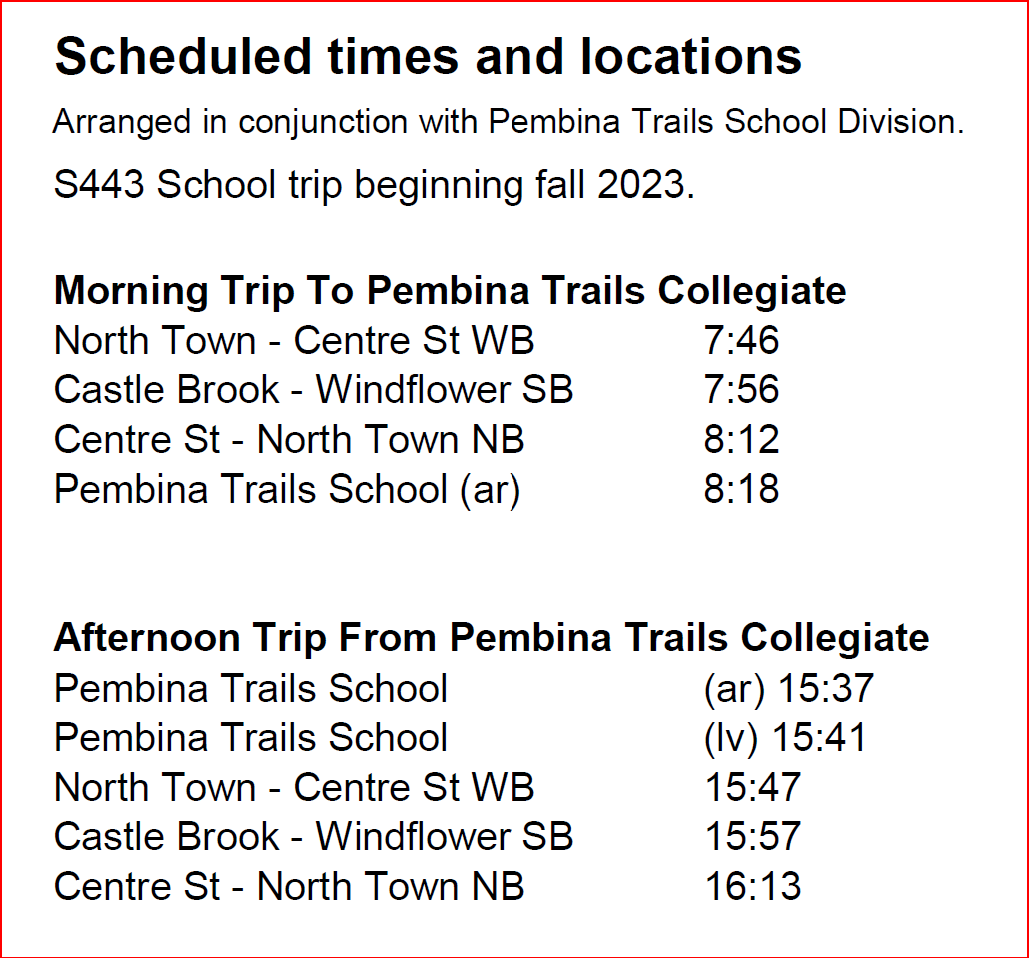 Click HERE for printable version of S443 schedule.
Route Maps (Click on map to expand)
Winnipeg Transit Route S443 (CHARTER BUS BY WINNIPEG TRANSIT)

| | |
| --- | --- |
| To Pembina Trails Collegiate | From Pembina Trails Collegiate |
Winnipeg Transit Regular Bus Routes (Non-Charter) Connections from South Pointe and Prairie Pointe to/from Pembina Trails Collegiate.
Route Maps (Click on map to expand scrolling to 2nd page)
Please see regular Winnipeg Transit Routes which are able to connect to Winnipeg Transit Route S443 (CHARTER BUS BY WINNIPEG TRANSIT)
| | |
| --- | --- |
| To/From South Pointe | To/From Prairie Pointe |
| | |
---