AP Capstone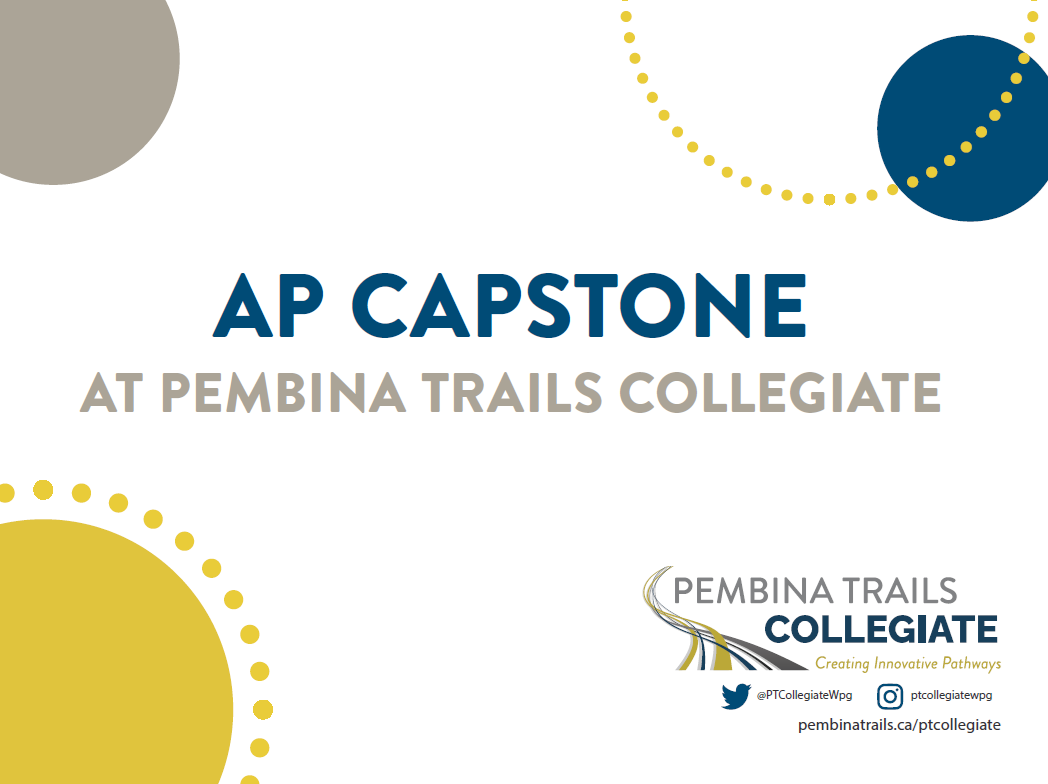 Click on the image to see our AP Capstone Handbook
Pembina Trails Collegiate strives to meet the needs of all learners using interdisciplinary learning and the 6 global competencies. Every course at PTC provides students the opportunity to learn new information and challenge themselves in many different ways. Although every course offered provides opportunities for students to enrich their learning, the AP Capstone program may be of interest to students who are passionate in going even deeper in their subject area of passion. AP Capstone™ is a diploma program based on two yearlong AP courses: AP Seminar and AP Research. Instead of teaching specific subject knowledge, AP Seminar and AP Research use an interdisciplinary approach to develop the critical thinking, research, collaboration, time management, and presentation skills students need for college-level work. College Board developed the AP Capstone Diploma program at the request of higher education professionals, who saw a need for a systematic way for high school students to begin mastering these skills before college.
Participating in AP Capstone can help students stand out to colleges, become independent thinkers, develop key academic skills, and more.
"AP Capstone helps students develop key skills that they will use over and over in college: conducting research and communicating their results."
— Stu Schmill, Dean of Admissions and Student Financial Services, Massachusetts Institute of Technology
Students typically take AP Seminar in grade 10 or 11, followed by AP Research. Each course is yearlong, and AP Seminar is a prerequisite for AP Research. In both courses, students investigate a variety of topics in multiple disciplines. Both courses guide students through completing a research project, writing an academic paper, and making a presentation on their project. There is an exam as part of the AP Capstone programming.
• AP Seminar is a foundational course in which students explore the complexities of academic
and real-world issues.
• AP Research allows students to deeply explore an academic topic, problem, issue, or idea of
individual interest.
The AP Capstone program compliments: Introduction to Tourism 30S, Global Issues 40S, Treaties and Treaty Relations 41G, Biology, Chemistry or Physics. Other courses can be considered based on the structure of the AP Capstone structure. Over the course of the two-year program, students are required to:
• Analyze topics through multiple lenses to construct
meaning or gain understanding.
• Plan and conduct a study or investigation.
• Propose solutions to real-world problems.
• Plan and produce communication in various forms.
• Collaborate to solve a problem.
• Integrate, synthesize, and make cross-curricular
connections.
In 2024/25 we will be offering AP Calculus 42S for grade 12's. We understand that is required for direct entry into certain post-secondary programs.
- Click below for the AP Capstone Program Student Brochure.
- Hear from other students who are involved in the AP Capstone Program by clicking on the link here.
- Hear from students who speak how they explored their interests/passions through the AP Capstone program by clicking on the link here.
- Discover the college and career benefits from participating in the AP Capstone Diploma Program by clicking on the link here. Students from around the world explain how the skills they learned in the AP Capstone program helped them advance in college and career.