ONLINE Course Selection Process
The online course selection process is now CLOSED!
If you missed the course selection process window, please download and complete the course selection form and email it to ptcollegiate@pembinatrails.ca. The student handbook gives a more detailed description of the course offerings. Please note that we provide some core subjects using an interdisciplinary approach with the 6 C's (collaboration, communication, creativity, critical thinking, connection to self and citizenship) as our lens for teaching and learning.
To request courses at PTC you must enter your compulsory and option courses as listed below.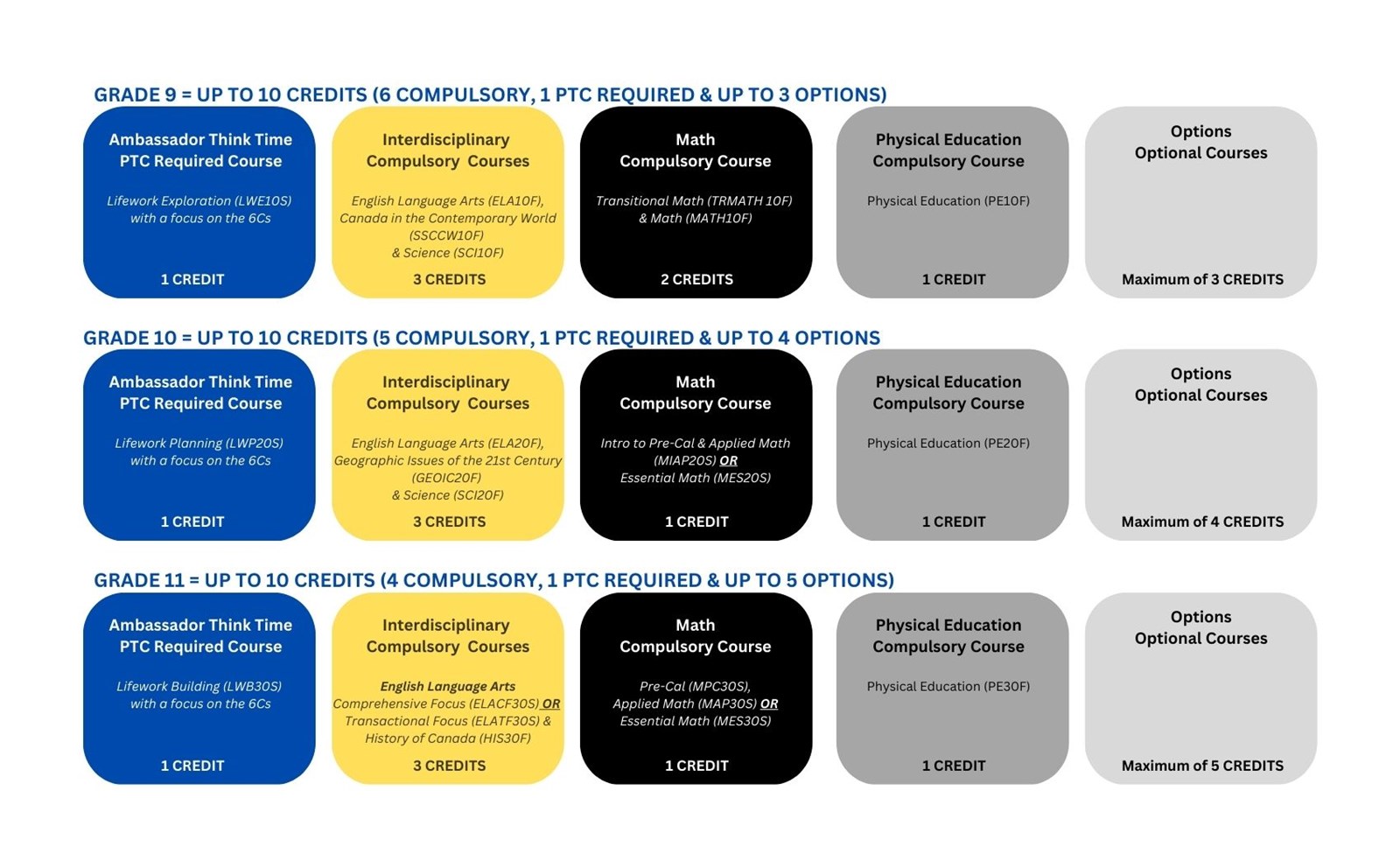 ----------------------------------------------------------------------------------------------------------------------------------------------------------------------------------------------------------------------------------------------------------------------------------------------------
Your child would have received a personalized registration package during the feeder school presentations as per the schedule below.

If you ARE NOT attending one of the schools listed below, please contact Pembina Trails Collegiate remote office at ptcollegiate@pembinatrails.ca or call 204.489.8989:
During these visits, students will receive a registration package that will include:
Student Update Form: Please have the student/family mark any changes on the hard copy and return this to their current school office by Friday, February 17th.
Students' personal login and password: This is required to select next year's courses online.
A graduation pathway planning tool so that students can check those they wish to enter online and plan for future years.
A limited number of hard-copy student handbooks will be available at the open house. The full student handbook with courses available can be found on our school website under the <What We Offer> tab.
Online course requests should be completed by Friday, February 24, 2023.
Course selections can be done at any time, on any device.
Students have been provided with the following instructions to enter their course requests online.
Select courses online at https://ptsdnet.pembinatrails.ca and enter your username and password (given to your child) provided below:
Username: «Student Number»
Password: «Password»
2. Click on Course Request.
3. Under Pre-Registered School, click Select beside PC-Pembina Trails Collegiate.
4. Select the appropriate Grade which corresponds to the course being selected (i.e., select Grade 9 for 10-level courses, Grade 10 for 20-level courses, and Grade 11 for 30-level courses such as DRA20S).
Note: There are multiple pages for course listings
5. Click the box beside the course code that is to be selected.
6. Click Insert Selected Options before going to a new page. The courses selected will be listed under Current Course Requested at the top of the page. If you need to remove a course, click Delete beside the course.
7. Click Logout to complete the course request process.
If you did not receive a personalized online course registration package please contact ptcollegiate@pembinatrails.ca or call 204.489.8989 and we can troubleshoot together.