Want to Become a Homestay Family?
Knock! Knock! The world is at your doorstep. Will you let opportunity in?
The students in our program come from diverse corners of the globe, such as: China, Italy, Brazil, Japan, Belgium, Mexico, Korea, Spain, Vietnam and many more. They want to improve their English while studying in Canada. For many of them, that includes living as a member of a Canadian family. Our students want to feel a part of a home while they are here. Often, it's the highlight of their time abroad!


"My host family was the best part of the whole experience. Thanks to their support, kindness and involvement I was able to experience a truly Canadian adventure that fueled me with new energy and enthusiasm every single day."
Allegra from Italy
Our students aren't the only ones who benefit from staying with a homestay family. It is also a chance to enrich your family with an entirely new culture. In that way, a homestay is not just a hotel, it's a cultural exchange.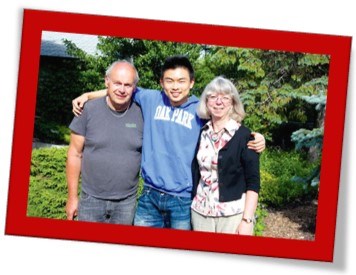 "We looked at this opportunity to expand our lives and learn more about other countries. The kids have been great, we even have former students who have come back to visit."
The Szuck Family – Homestay Parents with the Pembina Trails School Division
(2005 to present)

Our program started in 1995 with just a handful of students. Now we have approximately 100 students living with homestay families. However, there is often a list of students waiting to receive a spot in our Homestay Program. Without enough families, we cannot accept them all.
In addition to the personal rewards, families receive a reimbursement of $800 per month for costs such as: food, water, hydro and family activities. We welcome families, couples, single person homes and empty nesters. You must be a Canadian citizen or permanent resident of at least 35 years of age and English must be the language of communication by all family members in your home when the student is in the general area.
If you are interested in joining our growing community of homestay families, then please fill out our Homestay Family Application Form. For more information contact our homestay team.
Donna Gray, Homestay Aide
P: 204.488.1757 Ext. 1125
dgray@pembinatrails.ca